The Singapore Workforce Skills Qualifications System for Retail (Retail WSQ) is a national credentialing system developed in collaboration with the retail industry.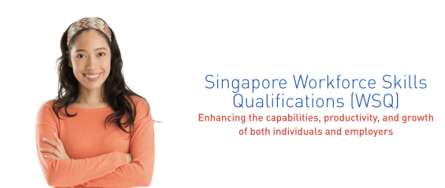 The Retail WSQ offers clear training pathways for individuals who want to acquire the relevant skills in today's competitive market. This includes training in specialised areas, which will enable you to maximise career opportunities by gaining the right skills to be a skilled retailer.
The Retail WSQ is available in four qualifications, designed for different levels:
WSQ Certificate in Retail Operations
WSQ Advanced Certificate in Retail Supervision
WSQ Diploma in Retail Management
WSQ Specialist Diploma in Retail Management
How can the WSQ System help me?
Our WSQ programme allows you the individual to take charge of your new career advancement or pivot. We can help you in the following areas:
Upgrade your skills and advance your career (easily over the next 1 to 2 decades)
Plan your career path and help you to acquire key new skills that can help you to enter a new sector or to secure a new job
Achieve paper qualifications and certifications so that you can demonstrate your credibility and know-how to your employers (existing or new!)
Assess and certify capabilities against world class work standards
Obtain portable credentials to improve your chances of being employed!
To find out more about the different courses, do check out our Course Directory here!
EduTrust Certification Scheme
Private education institutions or companies can apply to be certified under the EduTrust Certification Scheme. This scheme is a quality assurance programme which distinguishes private schools that consistently achieve a high standard of quality in the overall provision of education services. If you are looking for a private education institution in Singapore, do check this out and ensure that they are properly accredited before you commit yourself to it.
Course Fees Protection For You
Many students have concerns over paying and committing themselves to an education institution but then finding out that their service offerings falls short of what they are expecting. For SSG courses, the course fees paid by the students are protected in the form of fee protection schemes and fee collection caps. If a Private Institution Education provider is unable to continue operating, then the scheme protects the unconsumed fees paid by students while the fee protection caps limits the amount of course fee that the PEI has collected at any one time. To find out more about this, do check out the Training Partners Gateway.
NATC Institute – Feedback and Complaints Management
NATC Institute accepts feedback and complaints in soft copy using our website submission. We endeavor to handle and resolve all feedback/complaints within 14 working days.