2020 brings along the mega pandemic Covid19. It also brought along not one but three flagship Huawei P series devices: the P40, P40 Pro, and P40 Pro+ (not to be confused with keep-you-awake caffeine supplement).
We had a briefing and sneak peek with Huawei ahead of the official unveil and have been using the P40 Pro for four days in the run-up to the official announcement. Here's everything you need to know about this trio of devices.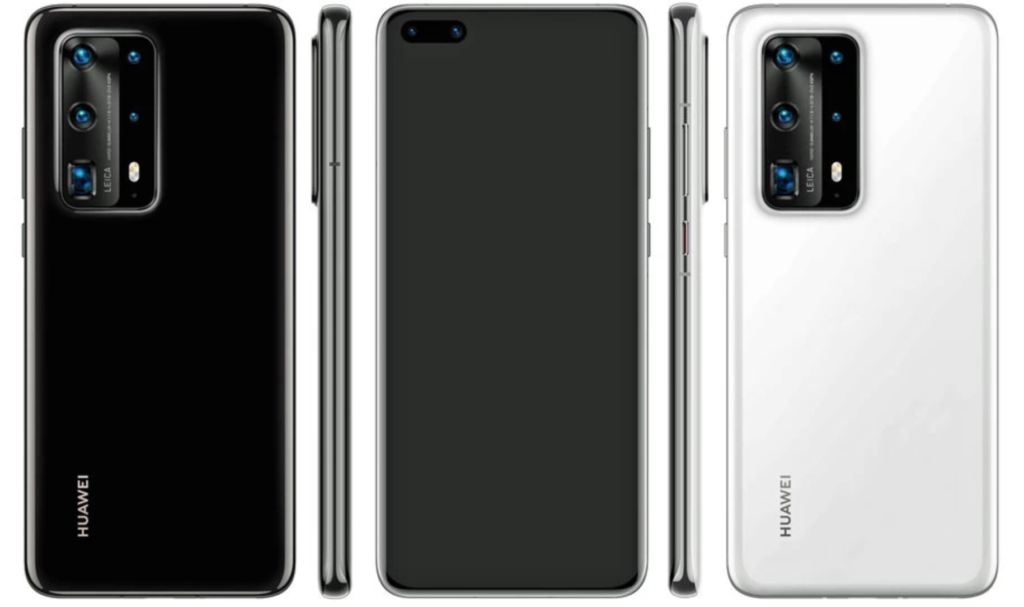 Design differences
All models: Metal and glass design, Pro+ only has ceramic finish offering
P40 Pro & Pro+ only: Curved screen edges, to both sides, top & bottom
P40 Pro & Pro+ only: Silver Frost, Blush Gold with matte-touch
P40 Pro+ only: Black ceramic, White ceramic
All models: Ice White, Black, DeepSea Blue
All models: In-display fingerprint scanner
All models: No 3.5mm headphone jack
Just a couple of weeks prior to the 26 March reveal, we were able to handle a P40 Pro, albeit in a concealed box. That gave away a number of prominent features, but now we can reveal those details in full.
First thing's first: the three models are composed of two fundamental design footprints. The P40 is the smallest of the three models, on account of its 6.1-inch screen; the P40 Pro and P40 Pro+ are the same in overall design.
All three models show-off a metal and glass design, with three base colours available across the full range: Ice White, Black, DeepSea Blue.
The P40 Pro and Pro+ also add the option of Silver Frost and Blush Gold, both with a more matte-touch and fingerprint-resistant finish – despite still being glass backed.
The P40 Pro+ adds a ceramic finish option, in either black or white. Huawei tells us this "nanotech ceramic back" is comprised of ceramic beads, which are compressed at higher pressure, then kilned at 1500C for five days, creating a sapphire-strength rear with a reflective index "similar to diamond". We look forward to seeing one of those in the real world.
None of the three have a 3.5mm headphone jack (last year's P30 did, but that's now gone), while all include an in-screen fingerprint scanner – which is said to be 30 per cent larger and more responsive than last year's P30 models.
Display: Two size options
P40 Pro & Pro+: 90Hz refresh rate OLED 'Overflow Display'
P40 Pro & Pro+: 6.58-inch, 2640 x 1200 resolution
P40: 6.1-inch, 2340 x 1080 resolution, flat panel
All models: Punch-hole twin front camera
As we've said, the P40 is the smaller of the three devices, with a 6.1-inch OLED display. It's flat, whereas the P40 Pro and Pro+ each feature a 6.58-inch OLED display, with curved edges to all sides, in what Huawei calls an Overflow Display.
There's no larger screen size to be found here, so Huawei hasn't taken the true triple form approach, like with Samsung's Galaxy S20 Ultra.
The two Pro models offer a 90Hz refresh rate, a 50 per cent bump over the usual 60Hz, designed for smoother visuals. It's not the 120Hz panel we were expecting, as per the Oppo Find X2, but for the sake of battery life we suspect it's a fair trade-off. The standard P40 is 60Hz only.
Whichever Pro model you choose you'll be getting a so-called 'Overflow Display'. That's Huawei's way of saying Waterfall Display, meaning the edges spill over, much like a waterfall, so the edge bezel is barely visible. This applies to all edges – both sides and the top and the bottom – for a real screen-dominant design that's unlike anything else we've seen to date.
While the P30 series had a notch for the front camera, the P40 series instead opts for a pill-shaped punch-hole to cater for its double front-facing camera setup. It's not pretty, given its large size.
Cameras: Triple, Quad, Penta setups
P40: Leica triple camera system
P40 Pro: Leica quad camera system
P40 Pro+: Leica penta camera system
Main camera:

All models: 50MP SuperSensing (RYYB) sensor, 1/1.28in size
f/1.9 aperture, optical stabilisation (OIS)
Focal length (approx): P40 at 26mm, Pro at 25mm, Pro+ at 24mm

Ultra-wide camera:

P40: 16MP, f/2.2, 17mm equiv.
P40 Pro & Pro+: 40MP cine lens, f/1.8, 18mm equiv.

Zoom lens #1:

P40 & Pro+: 3x optical (70mm equiv.), 8MP, f/2.4, OIS
P40 Pro: 5x optical (120mm equiv.) RYYB sensor, 12MP, f/3.4, OIS

Zoom lens #2:

P40 Pro+: 10x optical (240mm equiv.) periscope zoom, 8MP, f/4.4, OIS

P40 Pro & Pro+: Time-of-Flight (ToF) depth sensor
All models: Dual selfie camera, 32MP
The really core thing about the P series has always been its camera setup. In the P30 Pro we were blown away by the versatility of the triple camera setup. Things have moved fast since then, with competitors offering all manner of multi-camera setups, so the P40 had to answer that in a big way.
The cameras setup is the biggest difference between the three P40 models: the P40 has a triple system; the P40 Pro a quad system; the P40 Pro+ a penta system.
Whichever of the three you might pick, however, there's a core principle: all models use the same main camera sensor, a custom designed 50-megapixel one. It's custom because it uses Huawei's RYYB (red, yellow, blue) array, said to be better at capturing different light frequencies to the usual RGGB array, meaning better low-light performance.
But that's not all, this main sensor is much larger than a typical offering, with a 1/1.28in size. That's approaching double the size of a normal phone-camera sensor, meaning those 50-megapixels are spread out and much larger, for improved light-capturing possibilities. This is the largest sensor size we've seen in a modern phone (only 2012's Nokia PureView 808 is larger, if memory serves).
That sets the P40 series in good stead to deliver super quality. But it's not just about that main sensor: the ultra-wide and zoom optics are important too.
First, the ultra-wide lens. In the P40 that's the same 16-megapixel, 17mm equivalent as per last year's P30. The P40 Pro and Pro+ use a slightly less wide 18mm offering, but with a much higher 40-megapixel resolution. The higher-resolution offering is described as a 'cine lens' as it's also used to cater for video, at up to 4K.
In terms of zoom, you can think of it in three forms: the P40 offers a 3x optical zoom, as per the P30 last year; the P40 Pro offers a 5x optical zoom, similar to that of the P30 Pro from last year, but now using a RYYB SuperSensing sensor (at 12MP); the Pro Pro+ extends to 10x optical zoom for the first time, but also incorporates the same 3x zoom as the standard handset to aid in step-zoom, rather than jumping from 24mm to 240mm in one giant leap.
The P40 Pro and Pro+ also come with a Time-of-Flight depth sensor, which derives distance information, which the software can utilise in layers to help create background blur (bokeh) in portrait mode.
All three P40 cameras will offer familiar modes, from Artificial Intelligence shooting, to Night Mode. However, these have been advanced, with the AI tech now able to shoot multiple frames before during and after pressing the shutter to select the best of a burst and suggest a top three selection.
The selfie cameras in all three devices comprise a 32-megapixel main, alongside a depth sensor used for background blur effects.
Hardware specifications
In terms of internal processing prowess it's the same across the board for all three P40 devices, with the latest Kirin 990 processor and 8GB RAM on board.
All P40 handsets will be 5G capable, too, including the entry model.
It's in battery capacity and charging speed that the biggest differences can be seen: the P40 has a 3,800mAh battery, while both P40 Pro and Pro+ come with a 4,200mAh capacity. Given how well 4,000mAh+ has lasted in the past, we would expect great longevity from these handsets.
On the fast-charging front the P40 offers 22.5W. The P40 Pro and Pro+ take things up a notch, with 40W charging, which should charge the handset from dead to full in little over an hour.
Impressively, however, the Pro+also offer 40W wireless charging, which is the fastest non-cabled solution we've heard about to date. The standard P40 doesn't offer wireless charging.
Software: No Google apps
Android 10 operating system with EMUI 10.1 user interface
No Google Services, Huawei App Gallery instead
While all three P40 models will come with Google's Android 10 operating system, skinned with Huawei's EMUI 10.1 user interface, none of the three will come with Google Services, which means no access to Google Play Store.
The Google ban, resulting from the US-China trade war, has been in place for some time now. However, Huawei has moved forward with some of its own solutions, with Huawei Mobile Services, or HMS, aiming to rival Google, using companies like TomTom for mapping. There's also Huawei's App Gallery, instead of Google Play, but this currently lacks some of the major apps at present, such as Gmail, WhatsApp, and so on.
That said, Huawei is working to get the big developers on board – we know from conversations with Huawei that it intends to move hundreds of employees to London to work on HMS – with the BBC, Unity, and more are in the works. But until a variety of must-haves appear, we suspect this will be the hold-back for most considering the P40 series as a viable purchase option.
Release date and price
P40: €799 / Release date: 7 April
P40 Pro: €999 / Release date: 7 April
P40 Pro+: €1399 / Release date TBC
With a camera setup as hot as this, plus 5G for every handset, it's no surprise the P series is big bucks – especially the Pro+ which breaks the €1000 barrier and then some.
We expect the P40 devices will launch in China before anywhere else, from 7 April, with other territories to follow, excluding the USA. Given the lack of Google Services, we're unsure what this means for European markets overall though.