Knee pain is the most common of all joint pain. Knee pain is experienced by people of all age and levels of activity and knee pain can be caused either by injury or by overuse.
Whatever the cause of knee pain, exercise can help to relieve knee pain. Exercise also helps restore mobility and increases range of motion. It is important to do strengthening and stretching exercises for the comfort of the knee joint.
What are the best physiotherapy Singapore exercises to relieve knee pain?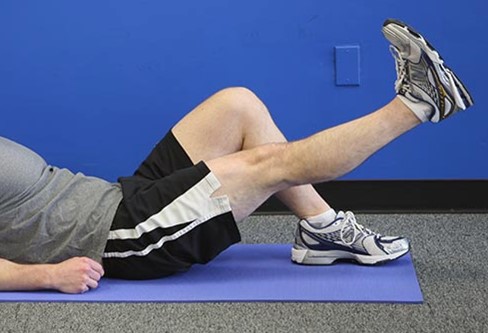 Straight leg raises
Lie on your back on the floor or other flat surface. Bend one knee and place your foot flat on the floor. Keeping the other leg straight, raise it to the height of the opposite knee. Repeat 10-15 times for three sets.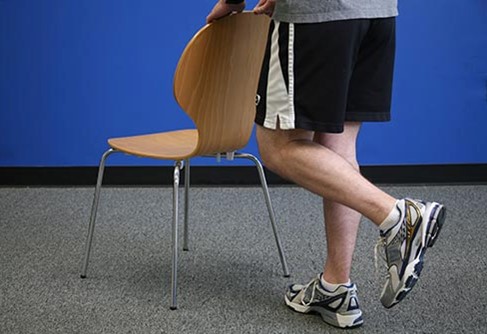 Hamstring Curls
These are the muscles along the back of your thigh. Lie flat on your stomach. Slowly bring your heels as close to your butt as you can, and hold that position. Do three sets of 15. You can also do this exercise standing while you hold onto a chair and lift one leg at a time.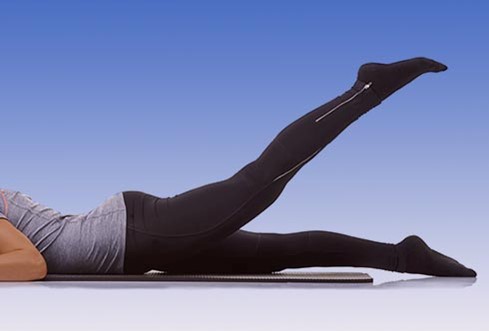 Prone Straight Leg Raises
Lie on your stomach with your legs straight. Tighten the muscles in your bottom and the hamstring of one leg, and lift toward the ceiling. Hold 3-5 seconds, lower, and repeat. Do 10-15 lifts and switch sides.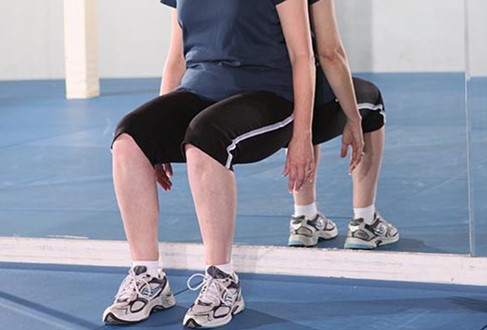 Wall Squats
This is a more advanced move. You'll keep your feet on the floor. Stand with your back against a wall, your feet about shoulder-width apart. Slowly bend your knees, and keep your back and pelvis against the wall. Hold for 5-10 seconds. Don't bend too deeply. If you feel pressure or discomfort in your knees, change your position. Repeat the exercise, and try to hold the sit position a few seconds longer each time.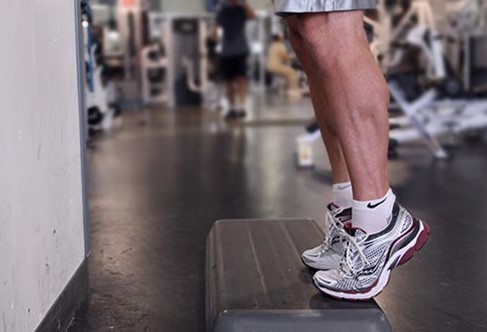 Calf Raises
Stand facing the back of a sturdy chair, other support such as the back of a couch, or a wall bar at the gym. You can also do this on the stairs, holding on to the banister with your heels hanging off the edge of the step. Slowly raise the heels as high as you can, then lower. Do three sets of 10-15. When it becomes easy, lift one foot slightly off the floor, with all your weight on the other foot.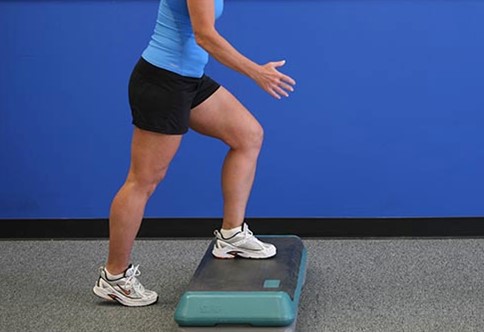 Step-Ups
Place one foot on a step bench, platform, or the lowest step on a staircase. Keeping your pelvis level, bend your knee and slowly lower the opposite foot to the floor. Lightly touch your toe to the floor, then rise back up. Repeat 10-15 times, then switch legs.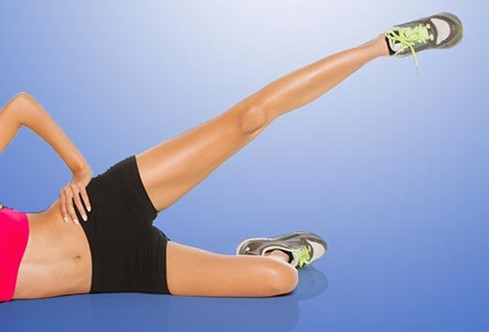 Side Leg Raises
Lie on one side with your legs stacked. Bend the bottom leg for support. Straighten the top leg and raise it to 45 degrees. Hold for 5 seconds, lower and relax briefly, then repeat 10-15 times. Switch sides and start over.
Physiotherapy exercises can help relieve knee pain and restore joint flexibility. Physiotherapists have been trained in the use of exercise therapy to strengthen your muscles and your function. Physiotherapy exercises have been scientifically proven to be one of the most effective ways that you can solve or relieve knee pain and injury.
Your physiotherapist is an expert in the prescription of the most appropriate and the best knee physiotherapy exercises for you, depending on your rehabilitation status.