1. Reorganize all of the office supplies
The hustle and bustle of a busy workday normally results in disorganized desks. So here are 5 office cleaning tips. Both visual and unorganized clutter in your office space must be eliminated.
Begin by going through all of your important documents and filing them in the required files and folders. This will make it much easier to find them in the future and will help you clean up the mess.
Anything including pens, journals, sticky notes, office supplies, and pantry items must be accounted for. All unwanted items should be discarded to make way for new items. Less clutter and hoarding would also make the spaces appear larger. It will be simple to clean, resulting in a cleaner appearance.
Just keep things on your desk that are absolutely important and within reach of your hands. If you have other essential resources to work on a regular basis, your desk can consist of nothing more than a computer or laptop, a notepad, and a few office supplies.
Pass on this principle to the staff so that the whole workplace tends to be well-organized and minimalist.
2. Make it a habit to do it every day
If you haven't hired a janitor yet, emptying the garbage on a regular basis should be your responsibility. Filled garbage bins may cause foul odors and the spread of unsanitary germs, which can cause illnesses. You and the employees will do it together by taking turns and redistributing duties.
After working hours, set aside fifteen to twenty minutes for a fast cleaning session that includes vacuuming the floor, organizing pantry items, replacing office supplies, and disposing of garbage.
Employees, on the other hand, are not expected to assist with maintenance and organization. Employees can assist willingly before you can afford to hire a janitor if you're a small business owner.
It would also demonstrate their cooperation and commitment to the company. Divvying up these cleaning duties on a daily basis will help keep the office clean and tidy without putting too much pressure on one person.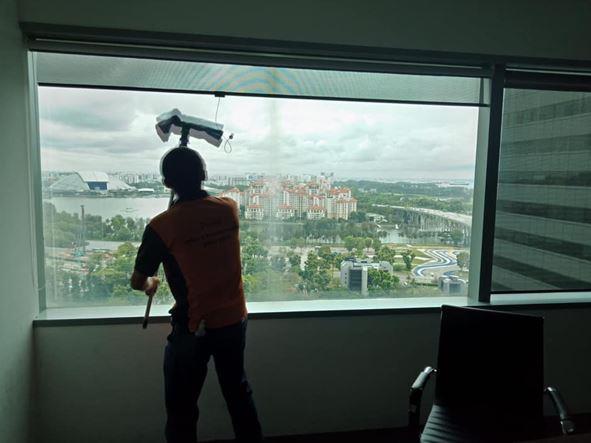 3. Vacuum and mop the floor on a regular basis
Vacuuming and brooming the floor, whether at home or at work, is needed to keep dirt and dust at bay. Your workplace is a commercial space that sees a tremendous amount of traffic every day.
The large number of visitors will result in piles of dust and dirt on the floor that are invisible to the naked eye. If you have a carpet, your office deserves more extensive and frequent floor cleaning than your home.
After that, you should mop the floor with an acceptable floor detergent. This should be done at least once a week, if not twice, to minimize clear stains and marks that make the floor appear dirty. Again, redistributing these responsibilities to the employees on a regular basis will make the job easier.
Your carpet or rug should be the biggest dirt collector in your office. Carpets are typically made of microfiber or fur, which can trap a lot of dirt and germs. The carpet should be vacuumed at least once a week and sent to be laundered thoroughly at least once every six to twelve months.
Since they are built to stay flushed and simple, dirt trapped in our home carpets is often more noticeable than dirt trapped in our office carpets. As a result, the volume of accumulated dirt becomes almost imperceptible, necessitating daily cleaning.
Other fabric parts and linens, such as door mats, curtains, sofa covers, cushion covers, chair seats, removable upholstery, and table cloths, should be washed properly to preserve their shine and light. You'd be amazed by how much difference freshly washed fabrics can make.
4. Keep cleaning as you go
Cleaning, cleaning, and tidying up as soon as you find a mess will keep your office clean almost all of the time.
For example, as soon as you finish lunch, clean up the mess or wash the dirty dishes, or resolve to organize a cluttered drawer at the end of the day. Do you have a soiled desktop? Immediately wipe it away. Have you seen any dust on the reception desk?
Request that your assistants take care of it right away. Clutter and excessive mess can be avoided by cleaning in small increments like this. When you have some free time, you can use cleaning supplies to solve the issue. Instill this habit in the staff as well, and they will become more responsible and treat the office space as though it were their own.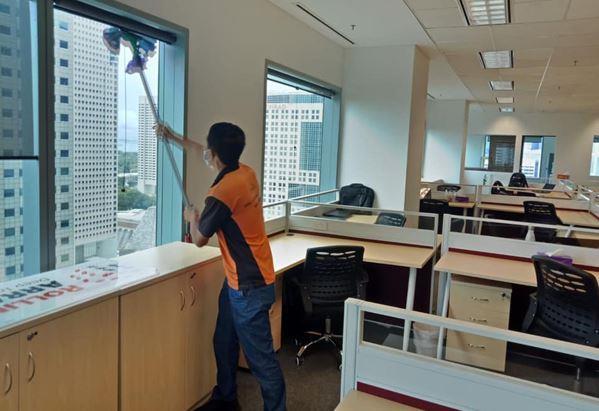 It's preferable to clean as you go rather than waiting a month and embarking on a big cleaning project that could leave you despondent.
5. Emphasis on Public Spaces
While your office and cabins need daily cleaning and organization, public spaces such as the toilets and pantry collect the most dirt and bacteria.
These are the areas that are the most unsanitary and, if not cleaned properly, will spread illnesses. Vacuum and clean these spaces as normal, then scrub the floor with a disinfectant mop.
Since the pantry countertop gets frequent coffee spills and absorbs broken food crumbs, it should be washed every day to prevent bacteria from accumulating and causing diseases and a foul odor. The pantry could have seating areas where people can eat lunch and meet for short breaks.
Clean the lounges, tables, and chairs so that the workers can enjoy their food and coffee in a clean environment.
No one wants to do their business in a disgusting, smelly setting, so the toilets should be cleaned almost every day. The most important thing is to clean this place. Also, add air fresheners in each of these areas to maintain a good odor.
In conclusion
If you have a large office space that you can't keep up with on your own, you may want to hire a janitor to keep it clean. If you can't afford an extra paycheck every month, the best choice is to hire a skilled cleaning service/office cleaning service for office cleaning.
These assistants are well-trained and well-equipped to leave your room immaculately clean at the end of the day. A skilled cleaning service can make your work simpler, save you time, and reduce your anxiety by delivering faster and better results. Furthermore, they will make every dollar spent worthwhile.
These facilities also include more advanced cleaning equipment, which may improve the consistency of the finished product. It is appropriate to employ them once a month, which will also fit into your budget.
Keeping your office clean will increase employee morale, allow them to concentrate more, and make you feel more comfortable at work. It also ensures that your business is presentable to customers, particularly when they come unexpectedly. It will increase productivity and foster a relationship between you and your employees.
Remember these office cleaning tips for a cleaner and more productive workplace.